Get the Football Brand Starter Hub
Get access to 60+ resources to help you build your journey in the football industry.
Get it now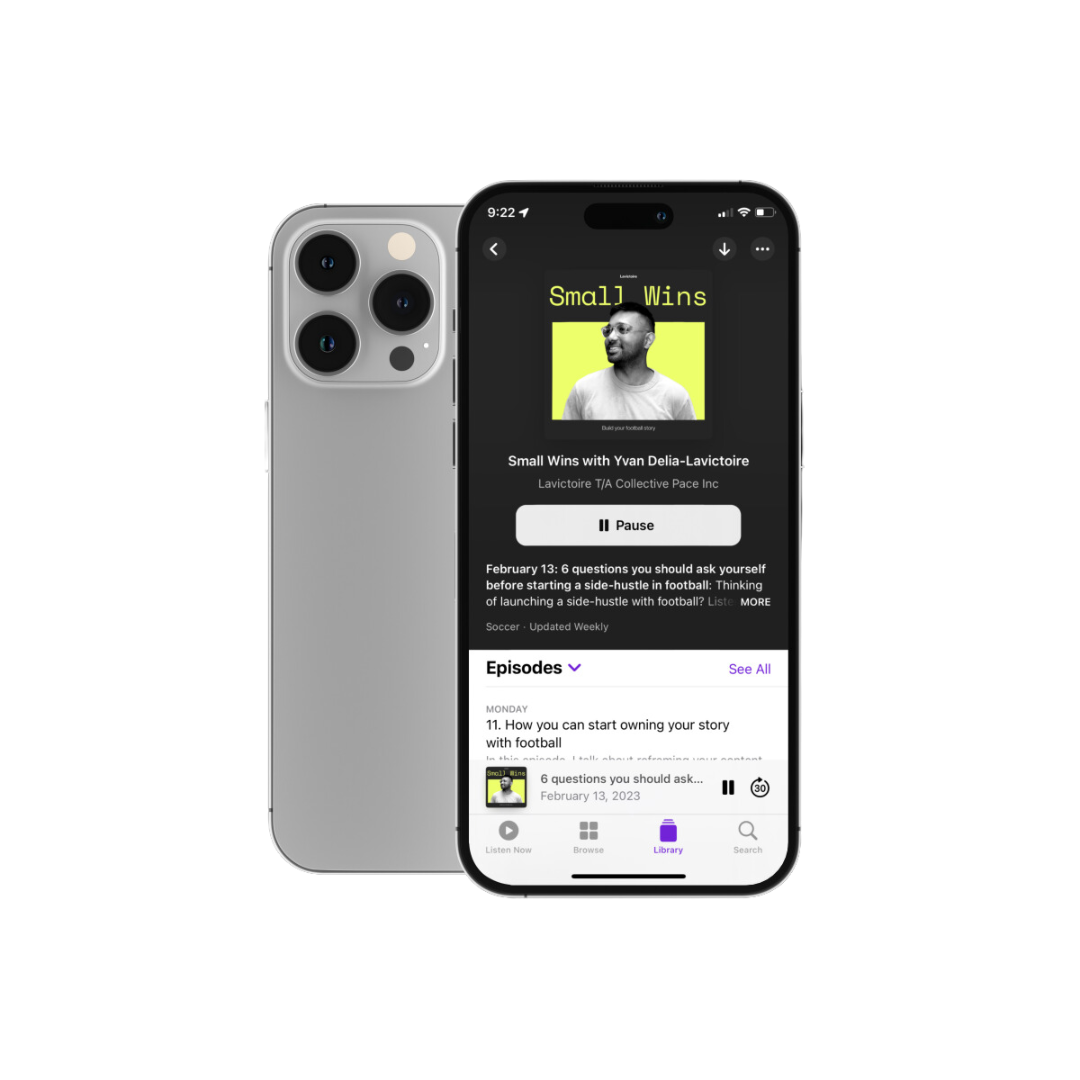 Listen to the Small Wins podcast
Expect actionable advice and stories to help you build towards your big goals in the football industry.
Listen now
Get the 3 Points
Sent every Thursday, each newsletter features one story, one brand and one episode of the Small Wins podcast.
Join the list
The L is for Lessons. Here are 4 key lessons I plan on bringing with me in 2024.

The L is for Lessons. Here are 4 key lessons I plan on bringing with me in 2024.
Testimonials
"A great kickstarter!"

"Lavictoire was a great kickstarter to my project. The simplicity of the format made it easy to start. And we all know how starting is the hardest step."




Gildas Messan Awuye
Football Saved My Life

"Massively Motivating!"

Worth every cent. Yvan had provided structure and expertise that has really helped me streamline my processes with my work and my artists collective, and it's been incredible to make the football friends I have from this community.




Noah Alexander Lennon
RESTOFUS FC

"The most insightful & inspiring football content community"

This community is extremely special to me and the stories shared, and the people that share them, always have me looking for ways to grow and improve my own game, as well as my teams'. The best part... is that we all really connect for our love of the creative side of the beautiful game. Lifetime member, no doubt.


Budreya Faisal
Ghost Concept

"What all football creators are looking for!"

Whether you're looking for inspiration, a sounding board for ideas, opportunities in the football job market or simply connect with other creators worldwide, then you've come to the right place.


Adrian Sousa
RabonaTV

"Get inspired and join a diversified football community"

Here I have been able to find inspiration, exchange ideas and especially to get quick feedback on my project. The community is really friendly and there is a great variety of content available to learn, grow and build your own story with soccer. I even had the opportunity to share some of my experience as a content creator.




Chris Abbey
Du temps et des jeux

"A true community for football creators!"

The Internet can be overwhelming and at times, difficult. Since joining Lavictoire, I immediately felt connected to a community of like-minded peers who share the same passion and love for football. This place is blessed!





Gisoo Kim
Soccer Pilgrim

Club Shop
Celebrate your small wins. Stop by the club shop.
Regular price

Sale price

$13.00 USD

Unit price

per

Regular price

Sale price

$19.00 USD

Unit price

per

Regular price

Sale price

$17.00 USD

Unit price

per